Spirits at the A MAZE. United exhibition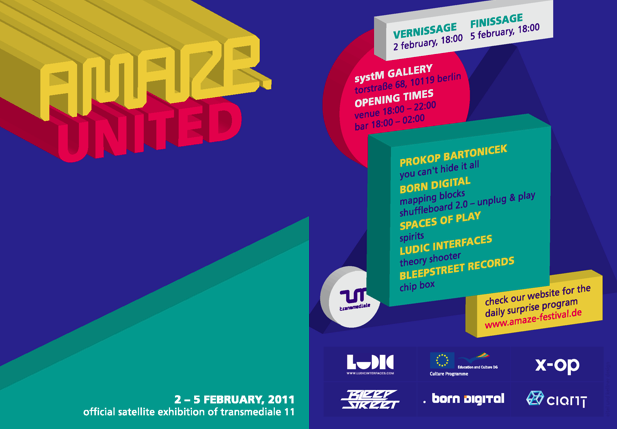 If you are in Berlin come and play Spirits at the A MAZE United exhibition, which takes place at Torstrasse 68 in cooperation with the Transmediale 11. We will be at the gallery on Wednesday, Friday and Saturday. The exhibition is open 6 – 10pm from February 2nd – 5th.

From the A MAZE. website:

"By combining courage for experimentation and joy in gaming, A MAZE. celebrates the convergence of computer games and art. A MAZE. plans to unite people via interaction, light and movement. The four-day event A MAZE. United at systM gallery shows an intimate selection of works, which are part of the future playground. In cooperation with Born Digital, an electronic art collective from Utrecht, Ciant the International Centre for Art and New Technologies in Prague, and Ludic Interfaces, a future European Masters programme, it will bring you closer to the magic of video mapping, audio visualisation and playful interaction betwwen knowledge and passion. systM gallery, a well-know venue with a regular changing and interdisciplinary arts programme, will host the event."

Do you have a question or comment? Get in touch on Twitter.