The Tools We Use Everyday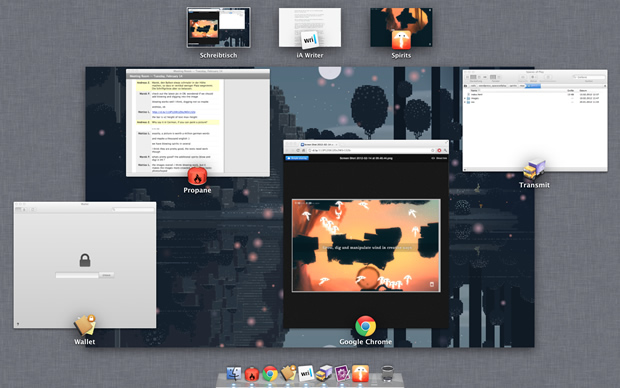 We have been Mac fans for years, so it's no wonder we ported Spirits to the Mac first.

One of the things that's great about the Mac is its ecosystem of native apps that focus on user experience and feature a tremendous attention to detail. Here's a selection of our favorite apps that help us being productive and getting things done everyday.

Since we work from three different cities we practically live in Campfire. It's a web-based group chat system that doesn't get in your way and works great both in real time and asynchronously. Best enjoyed together with Propane, a native OS X client for Campfire.

Whenever we share a screenshot on Twitter or Campfire, we use CloudApp. Drop any file on its toolbar icon and press CMD+V – you just pasted the file url right where you want it. There is no step 3.

From YouTube to iTunes Connect, we literally have dozens of accounts. Wallet makes sure we keep our credentials encrypted in a central place, so we don't have to use "god" for all our passwords. Syncs between Mac and universal iOS app via Dropbox.

We use Writer to write most of our copy, be it a press release, a submission to a festival, a blog post or our latest newsletter. It works perfectly and distraction-free on Mac and iPad and syncs effortlessly between the two via iCloud.

We go to Transmit to keep our website updated, edit files on the fly, login to S3 to access our database backups and manage file permissions in our Wordpress install. Simply the most solid FTP tool out there.

For coding we fire up TextMate – the canonical text editor on Mac. Even though its successor TextMate 2 has been in development limbo forever, the "old" release still excels at coding practically any language with its flexible and elegant bundle system.

If you keep forgetting how you named your files or where you downloaded them to, Fresh is perfect for you. Press a keyboard shortcut and it will show you files that are new, changed, recently opened or stored in Fresh by you.

Do you have a question or comment? Get in touch on Twitter.